Residential Solutions: Minitron
Download Specifications Sheet PDF

Specifically designed for coffee machines and small ice makers
Supplied with plain ends suitable for flexi hose connections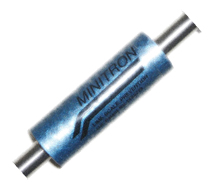 Unique Catalytic treatment system.
Independently proven technology over nearly 40 years.
No power requirements.
Easily installed
No maintenance or servicing required
Wras approved
Minitron is a unique limescale prevention system suitable for treating potable residential and commercial water supplies.
Minitron incorporates the unique catalytic alloy conditiong systems into a single compact stainless steel housing providing the most complete reaction available for calcium carbonate treatment.
Surface contact of water with treatment components is scientifically proven to create the most complete chemical reaction to precipitate CaC03.
With no power requirements MInitron can be installed in isolated areas and either vertically or horizontal. Correctly installed Minitron will not have a dramatic effect on pressure losses with a loss of no more than 2% in most cases. Peace of mind for contractors, no electrical connections or power requirements are required and there is no mechanical parts that are subject to breakdown. Once Minitron is installed users can expect a minimum service of 10 years www.treatwater.com